Are you one of those rare individuals who put the pen to paper (or fingers to keyboard) and spun a whole new imaginative world that just needs to be shared? Let me help you grab your potential reader's attention with a great cover! I am here to help build that visual portal to capture a person's attention, and sweep them into the land of words and imagination.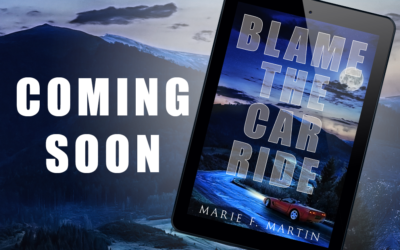 Cover reveal for Marie F. Martin's upcoming release, "Blame the Car Ride". Look for it coming soon to print and ebook! SaveSave...
read more
What Clients Have to Say…
"The ebook covers Karri created for me weren't exactly what I asked for, they were better! Not only is she talented, she's also friendly, efficient and easy to work with. I highly recommend her."
– C.J. Archer, USA Today Bestselling Author
"I've worked with Karri Klawiter on 18 different covers now, and I keep coming back because she's absolutely brilliant to work with. She comes up with ideas that are the perfect expression of the vague art direction I give her ("Neon, like Vegas, but purple…and maybe a girl on the cover? I dunno.") melded with her genius to create covers that catch the eye every single time. She's a true professional, great at communicating what she's doing, where she's at with a concept, and easy to work with."
– Robert J. Crane, Author of the Girl in the Box series
"I've been working with Karri since 2012. Karri has produced the digital and print covers for my six novels, a digital cover for a three novel box set, and a digital cover for my affiliated short stories. Karri is the consummate professional. Communications are returned promptly, concept covers delivered when promised, and in many cases, her first interpretations of written design concepts not only fulfill the vision but enhance it. I cannot recommend Karri highly enough."
– Alex Albrinck, Author of The Aliomenti Saga
"…The results speak for themselves because this week Karri's expertise steered my Justice series to obtain the greatest achievements all authors strive to achieve, NY Times and USA Today bestselling status.
Every time I need a cover created Karri nails the image in one or two attempts. I trust her judgement implicitly and Iím extremely grateful and privileged to have her skills as part of Team Comley."
– M.A. Comley, NY Times and USA Today Bestselling Author